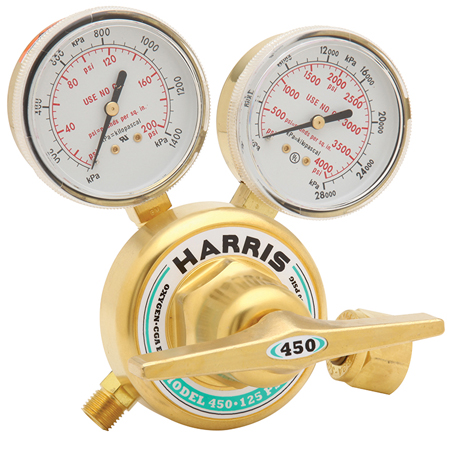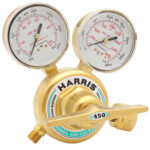 Harris 450 Series Regulator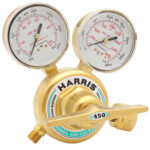 Harris 450 Series Regulator
$135.95
$135.95
Description
Additional information
Description
Harris 450 Series Regulator
Finally, an economically priced, heavy-duty regulator that has been specifically designed for use in the most abusive working conditions in both shop and field.
Proven Safety
The Harris 450 industrial regulator exceeds all relevant industry standards and guidelines. They are all CGA E-4 ignition test certified. They are equipped with a 2 1/2″ brass gauges and stainless steel diaphragms. These regulators are also compatible for use on gaseous withdrawal of liquid cylinders. With Harris, safety is on your side.
Durable Materials
The Harris Model 450 is manufactured using only the highest quality industrial bronze and brass material. The all metal pressure adjusting mechanism provides superior strength, and longer service life. A tamper-proof, self-seating high pressure relief adds another degree of safety and durability. The Model 450 has a protected encapsulated seat design for longer service life even when used in the most abusive environments. It is also equipped with a stainless steel diaphragm for heavy-duty use and a long service life.
Quality Manufacturing
Quality starts at home, which is why all Harris 450 industrial regulators are made in the USA. We use precision machining and robotic equipment to achieve tolerance levels others simply can't match. Our regulators are 100% tested, 100% of the time, for both workmanship and performance. You can be confident that Harris doesn't just talk about quality – we back you up with quality with our 3-year exclusive premium warranty.
Easy-to-use Design
We have been making industrial regulators for over a century and it shows. The Harris Model 450 features large 2 ½" brass dual scale gauges that feature both PSI and BAR pressure scales to make it easy to read and set your required delivery pressure. The oversize pressure adjusting screw requires less user input when adjusting allowing you to reach those higher pressures. When a tough job is on the line, a new design won't help much if it can't be read and adjusted in the field, the Model 450 designed and perfected on the job.
Put the Model 450 to work for you. We've got your back.
Model Details
450-125-540 (#3002497)

Gas – Oxygen  /  Inlet – CGA540  /  Outlet – 9/16″-18RH

450-200-540 (#3002499)

Gas – Oxygen  /  Inlet – CGA540  /  Outlet – 9/16″-18RH

450-15-510 (#3002494)

Gas – Acetylene  /  Inlet – CGA510  /  Outlet – 9/16″-18LH

450-50-510P (#3002495)

Gas – LPG  /  Inlet – CGA510P  /  Outlet – 9/16″-18LH