Regulator & Torch Rebuild Service
Have our factory trained technicians repair your equipment!
Scrapping?
We sell and service all brands of scrap torches -- from torches, regulators, hoses and safety supplies, we can supply all of your scrapping needs.
Welding Hoses as low as $19.99!!!
We stock MANY different hose sizes, lengths, & fitting sizes!
We are a premier gas apparatus service center and can meet all of your gas welding and cutting needs.
Quality Service – Fast Turnaround!
Have your regulator or torch rebuilt by our qualified professionals!
Get Started!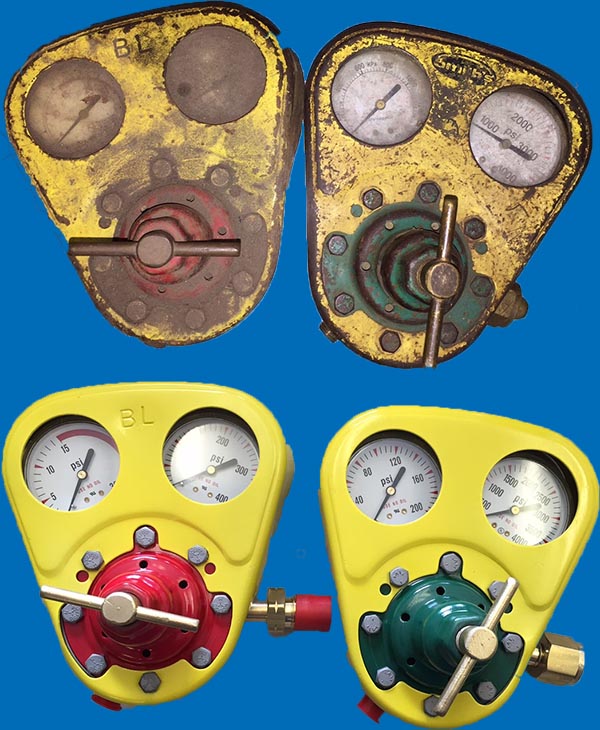 Here's what our customers have to say!
Victor Boswell

"I was looking to repair some old Sears regulators and could not tell who made them. I sent a photo and model number to Jim and he replied in less than an hour with the recommended kit. Ordered two kits and they arrived in 3 days and they have the exact parts I needed. A perfect fit! Thanks for such great service."
Jeff M.

Ret. US Army

"This is a top-notch company that is not too big to care about its customer base. They provided quick and knowledgeable customer service from my initial call into receiving back my equipment all in just a few days. A great American company doing it they the way it should be done. You are my GO-TO Company without any doubt from here on out for my metal work equipment needs. Thanks again."
Bob

"Received my order today. Thank you for great service, and quick shipping. I will certainly recommend Regulator and Torch Exchange Inc. to anyone needing this service."
Dave C.

"I'd like to thank you for helping me get my torch back in working order. Mr. Billingsley was a pleasure to work with. Parts were correct, affordable and sent quickly."
Charles

"I talked to "Jim" earlier this week, he offered clarification on what I needed, and then I ordered 2 repair kits very late Tuesday night. The kits arrived today (Thursday, in the daily mail). WOW, great products, great price, and excellent service."
Paul

"Thanks for the great service. Once in a while, I do business with a vendor who goes the extra mile. Polished and cleaned gauge and thread protectors when I only asked for repair! I'm impressed."
Victor

"Wow, you people are the best! I just got this e-mail and the package was at the mailbox already! Thank You for super fast shipping, I will spread the word and look forward to doing business again!"
David

"I just wanted to tell how impressed I am with the torches and regulators you rebuilt. They look and function like new! The work was done more quickly than I ever expected and your response and service are superb. There were no surprises and I think got more than I paid for."
Stephen

"My regulators were not repairable. R&TE offered me a good price on new ones. I was expecting to get the least expensive model for that price but I got a better, all metal model. The torch was rebuilt like new. I recommend."
Dave

"Received torch yesterday, looks brand new! Never expected it to come out so nice! Can't wait to use it."
Scott

"I want to commend your company on such quick response, keeping the customer informed, and just plain old great customer service."
Jeff Biaggi

"I received my rebuilt VICTOR SR5 regulator today and I am very happy with your work. "Great Job". If I ever have an opportunity to spread the word, about your company and its services, I certainly will. Thanks again."
Brad Wolff

"I can't thank you enough for such a great job. If anyone is nervous about sending their regulators to you guys, they can relax - know their regulators will be in great hands at RTX!"
Gilberto Chavez

"Got the parts today! Fantastic service!"
Richard Unger

"Great Job, everything exceeded my expectations the regulator works and even looks like new. I expected it to be cleaned and rebuilt with the new parts on the inside, but it came out of the box sporting a new paint job and polished brass, even new gauges as well. You said you would replace the lenses on the gauges but I never expected new gauges. "WHY CAN'T OTHER BUSINESSES OPERATE THE WAY YOU RUN YOURS?" Keep up the good work."