Quality regulator and torch rebuild and repair by experienced professionals.
Regulator & Torch Exchange, Inc. rebuilds over 1350 regulators and torches a month.  Over the last 19 years, we have become the premier gas apparatus service facility in the Southeast.   Our teams has over 100 years of sales and service experience in the welding and cutting gas apparatus industry.
We work with over 300 welding distributor locations throughout the US.  We service regulator and torches for the end users as well, from shipyards, scrap yards, and backyards.  We are the first choice for quality service of torches and regulator for the welding industry.
All of the equipment we service is completely rebuilt.  All soft parts (seals, o-rings, gasket, and seats) are replaced.  A new inlet connection is installed on every regulator and a new tip nut is installed on every cutting torch.
We warranty our rebuild for 180 days!!!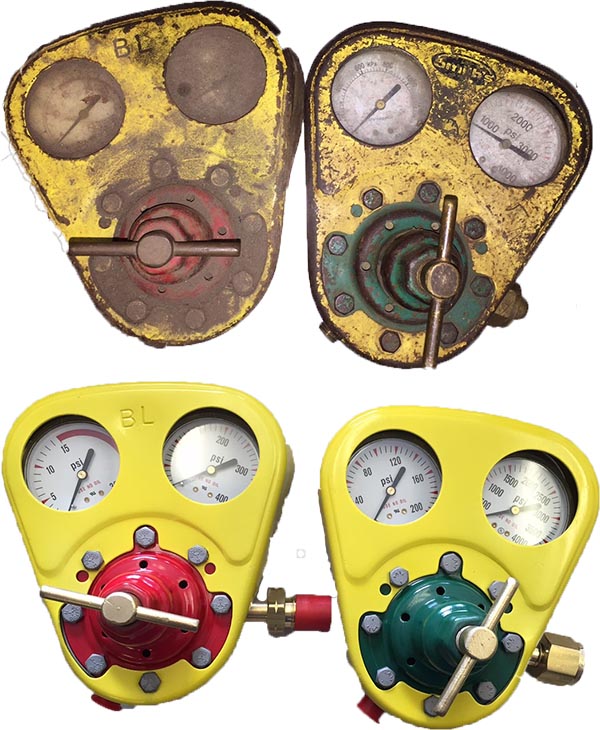 Instructions:
Please complete and submit this contact form and  customer service will contact you via email with a Rebuild Estimate*.
If you choose to send your equipment in for service,  print the Rebuild Estimate and ship a copy with your equipment to the address on the Rebuild Estimate.
Once your equipment has be received and inspected, Customer Service will contact you via email with a PayPal's Invoice with your total cost. If you do not wish to use PayPal's, you can call us with your Visa, Master Card, and American Express at that time.
Once the payment is received, we rebuild your equipment and ship in three business day.   We offer free shipping on all equipment service orders over $150.00.
For multi-piece orders, send only one (1) work order form and you will receive a detailed account of your equipment with the cost of each individual repair.
The average rebuild rate for most equipment is as followed:
Regulators: $70.00-$75.00
Flowmeter: $70.00-$75.00
Two Stage Reg./Flowmeters: $125 and up.
Cutting Torch: $80.00 – $95.00
Do not use this form for Smith Lifetime or Concoa and Smith Standard Warranty. Please call for a Warranty Service Request Number (WSR#).
*Blind quote for standard rebuild only. Equipment needing more than soft parts may cost more to rebuild.
Ship Equipment to one of the following addresses:
UPS / FedEx Address:
Regulator & Torch Exchange, Inc.
2337 Highway 78 / Suite B
Loganville, GA 30052
Post Office Address:
Regulator & Torch Exchange, Inc.
PO Box 1150
Loganville, GA 30052
Repair & Rebuild Service Request Form